Training & Education
The IPOA pursue a vigorous policy of providing educational and training opportunities for both staff and members. Twice yearly in Dublin and Cork, members are invited to information sessions updating them on developments in such matters as the Residential Tenancies Act and the HAP Scheme. Guests speakers are invited to make presentations on matters including taxation, standards, finance and law. Information is also sent by email updating members and newsletters full of essential information are regularly sent to members.
A number of IPOA Members were trained under the IPOA Advocacy Scheme. They learned advocacy skills and have graduated to become advocates for dispute resolution.
The IPOA held their first conference on 17th October 2006. Entitled the Green House Sessions, it provided a detailed analysis of the energy crisis and how it will impact on Irish Property Owners. Designed by the IPOA in consultation with acclaimed architect and TV presenter Duncan Stewart it provided an invaluable insight into what measures must be taken to comply with regulations and how to save money doing so. Numerous conferences and seminars have taken place since then.
In addition the IPOA's on site Conference and Training Centre was opened by Minister Brian Lenihan in December 2005. A state of the art facility the centre is used for meetings, training sessions, exhibitions and classes and is open for use by all members.
Educational and information evenings are held frequently throughout the year to keep members up to date on legislation and changes in the market.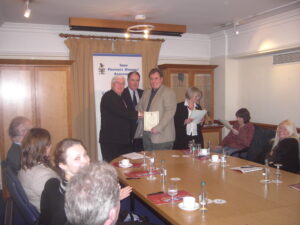 EDUCATION & TRAINING
The IPOA run courses on property management and investing in property. These courses are aimed at recent investors, sons and daughters of existing landlords, letting and managing agents. They are also very useful for anyone letting property in the private rental market. The object is to give a clear understanding of the procedures and legislation involved in the rental market. The courses include:-
Property Standards,
Taxation,
Registration,
Finance,
Buildings Energy Ratings,
The Residential Tenancies Act 2004,
The day to day running of property.