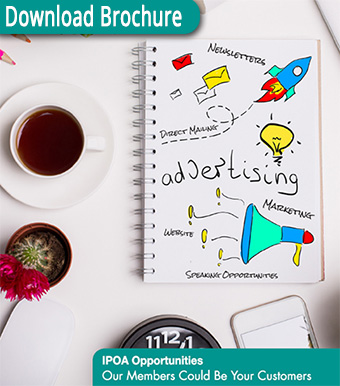 We are the voice of the Residential Property Owner nationwide. The IPOA would like to offer your company a range of promotional opportunities:
Website Exposure – Our banner advert provides a great opportunity for you to get in front of landlords. The banner is located at the top of the webpage which is ideal as it's always the first ad to be seen. The banner advert is worked on a rotational basis and would usually change each time the page is refreshed.
Direct Email campaign – Email campaigns are an efficient way to get your message out to a large and targeted audience. You create the email, and we'll have it sent direct to our most members. You decide the date and time that you want the email to go out and we will do our best to make it happen.
Established Printed Newsletter  – Our printed newsletter is distributed bi-yearly and it very well received. Your brand will be in a prominent position in our newsletter seen by our members and industry stakeholders.
IPOA events – Our in-house and online events will provide you with exhibition and speaking opportunities. This provides an excellent opportunity for you to get directly in front our membership and showcase your specialist skills, knowledge, products or services.
IPOA can give you a unique opportunity to position your brand and deliver your message, affording you with the following benefits:
Exposure to thousands of property owners/investors in Ireland
A targeted chance to promote your company to the optimum market in a non-diluted fashion'
Inclusion in established, professional, quality publications which will be distributed directly to your ideal market;
Advertising that will allow your company to be visible well-profiled with maximum exposure;
Please contact sclancy@ipoa.ie for Sponsorship Packages and Advertisement Rate Card