Buildings are an asset and like any asset should be adequately protected. A property reinstatement valuation assesses the cost of reinstating the property to its original condition in the event of total destruction. It is extremely important to note that the market value of the property and the reinstatement valuation of the property are in no way linked.
The reinstatement valuation should typically include the following: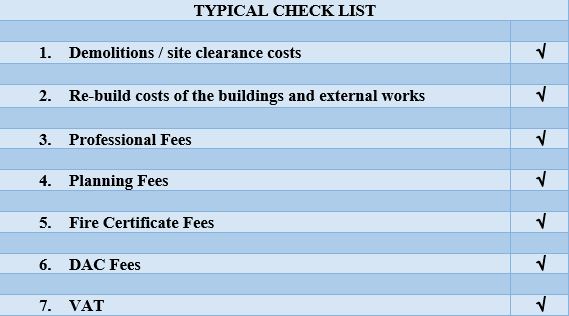 The reinstatement valuation should be carried out by a chartered quantity surveyor who has experience in the type of building sector that the reinstatement valuation is being calculated on. The valuations are initially prepared from the existing drawings. A site visit plays a critical part in preparing the assessment. This is not only important for establishing the existing specification, but ensures that all buildings within the site boundary have been captured and any material alterations since the drawings were prepared have been accounted for. Quite often the existing drawings and records are quite poor. We recommend that the site visit be undertaken with the building manager whose knowledge of the scheme should prove invaluable.
The re-build costs are based on the gross internal floor areas. The areas used should be stated in the reinstatement valuation. Existing tenant floor area schedules are a useful cross check. These should not be relied on in their entirety as quite often these are the net floor areas and do not contain the back of house or common areas, internal wall areas, public areas, halls etc.
A reinstatement valuation should also include the list of exclusions. For example, contents are normally identified separately and included elsewhere. Tenant fit outs, furniture fittings & equipment and shopfronts are normally excluded. These should be verified with the building owner. This ensures that there are no gaps or overlaps in their insurance policies.
It is important that reinstatement valuations are checked periodically to ensure that you are not over or under insured. Tender rates have been increasing steadily since they bottomed out in the second half 2010 / first half 2011 as per the SCSI Tender Indices (over 7% per year actually!). It is important that the reinstatement valuation on your property is up to date and that you are adequately insured.
Remember – If you are an owner of a pre or post 1963 property which has been converted in to flats or bedsits, contact us in advance of your next renewal date.
Don't be swayed by the cheap premium offerings of home insurance type policies labelled as 'landlord insurance'. Insure your investment property with a property damage All Risks landlord policy…you won't regret it when a claim arrives!
If you have specific questions about your residential or commercial or mixed use investment property insurance cover, talk to the property insurance EXPERTS at SA Faughnan (Brokers) Ltd., who have over 35 years' experience in general insurance…
Read more related Property Owner Tips & Advices on SA Faughnan Brokers' website safaughnan.ie or contact us on 824 5555 or by email at newbusiness@safaughnan.ie