10/06/2021
Question:
I am a new Landlord, what insurance cover do I need in place by law? What are the types of Insurance available?
Response:
By virtue of the Residential Tenancies Act 2004, Landlord's should have Property Damage and Public Liability cover in place for every unit they provide for private rented accommodation.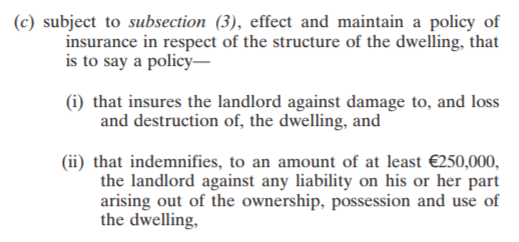 Apart from that, other insurances that are mandatory are those prescribed by a contract e.g. the terms of a mortgage or loan / the terms of a lease agreement. Either or both of these contracts may require you to insure property, glass, loss of rent, public or employer's liability.
Generally, the types of insurance available are Landlord Home Insurance or Property Owners All Risks Insurance, the latter being the more appropriate for an investment property, be it residential or commercial. They will generally extend to cover all of the items required under a mortgage or lease agreement and provide the required legal indemnity to the financial institution.
Credit Response – S.A. Faughnan Ltd (Brokers) Ltd.

Are You A New Landlord? Do You Need Help?
Contact IPOA – 01-8276000