IPOA is delighted to announce the election of Mary Conway as the new Chairperson of the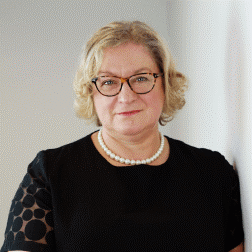 Association. This election marks an important next step for IPOA.
Mary has been a residential landlord for 27 years and a member of IPOA since 1997. She also has the distinction of being the first female member elected to Committee in 2017.  Formerly a Nurse and Midwife, Mary has extensive experience managing students lets, houses of multiple occupancy, and letting houses and apartments.
Mary holds a PRSA license A, B, C, and D, following the successful completion of a Higher Diploma in Real estate management in TUD Tallaght.   She registered her Company Janus Estates Limited in 2019.  In addition to managing property, lettings and sales she is the first Senior Move manager™ and Certified Living in Place Professional.
Many of you will know Mary from her attendance at IPOA events and representation of our Association at Stakeholder's meetings.   We are looking forward to profiting from Mary's broad experience and knowledge and working with her going forward.
"I am very happy to have been elected as the Chairperson of the Irish Property Owners' Association (IPOA). The Private Rented Sector we find ourselves in today certainly presents a lot of challenges for landlords –  I look forward to working with the Committee and Executive team in IPOA to realise our plans for the future growth and sector representation."      Mary Conway
Stephen Faughnan, former Chairman and co-founder member of IPOA has stepped down from the role,  we are pleased to report that Stephen will remain as Director and Treasurer, an invaluable member of the Committee, ensuring the smooth transition of the Chair – retaining the knowledge gained during his years leading IPOA.
Kind regards
Tom Reilly
IPOA Company Secretary