30th May 2023
The Government's failure to recognise the pivotal role of property owners in housing provision shows that Ireland is out of step with its EU counterparts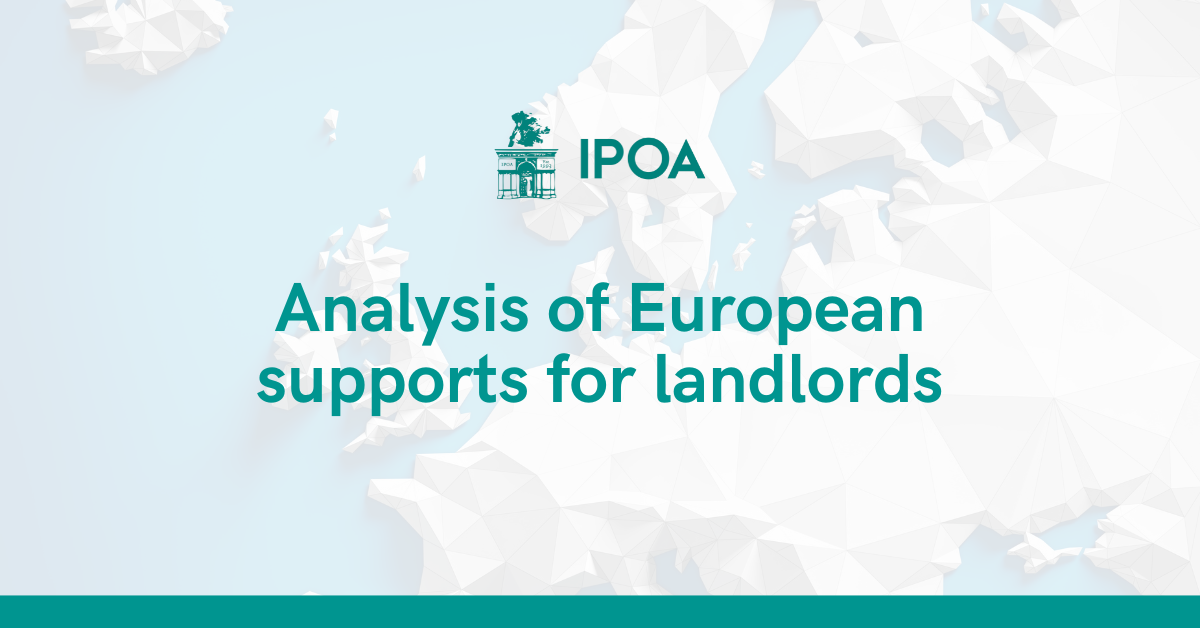 IPOA has released the findings of its latest comparative analysis, which examines support mechanisms in place for landlords across EU Member States.
The research demonstrates that, in cases where Member States have assisted the sector via targeted taxation relief and financial subsidies, sufficient level of affordable housing stock has been maintained.
In turn, this has unlocked further investment in the market, improving the quality of residential properties available, and facilitating new forms of medium and long-term tenure.
Full Report – Click HERE
To alleviate this crisis in housing stock and stimulate further investment, the IPOA is proposing several measures to retain landlords in the market, notably:
Introduction of a dedicated 25% tax rate for the sector (investment funds pay effective 0%)
Implementation of a roll-over relief on Capital Gains Tax
Facilitating a return of s23, allowing double tax write-offs on certain expenses, such as refurbishments
Just last month, Government approved a €1 billion package of supports to expedite the delivery of new homes. Despite private, or non-institutional landlords providing 94% of residential rental accommodation, the sector was not included in the suite of supports.
Chairperson of the IPOA, Mary Conway, said: "Our research published today demonstrates that, relative to other EU Member States, Ireland is notably out of step on the provision of supports to private landlords. As a priority, policymakers must recognise the central role that property owners play in housing provision, through introducing targeted subsidies that allow landlords to remain in the market and support the growth of the sector in a tangible way.  
While Government is making efforts to increase the supply of housing, the reality is that without direct and immediate funding, private landlords will continue to leave the market. This will only serve to negate broader progress on enhancing supply. The fact remains that 78% of IPOA members will remain in the rental market if there is a meaningful reduction in the headline rate of taxation. Ireland is experiencing a national housing emergency – these measures need to be expedited as a matter of urgency".  
IPOA – SUPPORTING LANDLORDS FOR OVER 30 YEARS
Contact Us – 01-8276000 / info@ipoa.ie